A Peek Inside Painful Joy
From the Preface (page xv)
[A surprising discovery that upends everything]
"The narrative I had written in my head about my parents was that they had met in a refugee camp in Sweden where coincidence and pure chance, convenience and opportunity led them to decide that fate had brought them together to restart their lives.
Starting over seemed to be almost a transactional or even practical arrangement. They married, had two children and somehow found a new path toward living again, though not at all from where they had left off – a kind of fresh start. Too often, however, it became a rocky and desperate journey. When we were young and even later, their relationship seemed unhinged, perhaps untenable.
I no longer believe my original narrative was all that accurate. It was too simplistic. It gave them too little credit as humans and ultimately, too much of it wasn't even the whole story. It took me more than 70 years to figure it out. If only they could have told me all of it when I was a little boy. They could have told me not just what their real stories were, but also what gave them joy, along with the pain they mostly wore on their sleeves.
Maybe then, or later as I grew older, I would have been able to see more clearly through their mental instabilities, know who they once had been and look beyond it all to the love that lay beneath. Maybe then I would have understood them better and better appreciated the nature of their love in the face of unbearable pain, hardship and loss."
From Part II (page 32)
[About my grandfather - who I never knew and who my father barely knew]
"Here's my mother's version of what happened:
Frieda would begin by pointing to the edge of the metal table where we ate our meals in the tiny kitchen of our Coney Island apartment. "I'm telling you, so listen," she would intone to Rachel and me (generally her only captive audience) in an excessively loud and sometimes deeper voice than her small frame would imply.
"Always be careful! I'll tell you why. One day, Szlameck's father was just standing in the kitchen where they lived in Poland and didn't pay attention to what he was doing. So he fell down hard and hit his side" (pointing to her own hip) "on the edge of the table – just like this!"
She raised her voice along with her hand as she slapped the corner of the table. Then the lesson ended: "He dropped down to the floor and just died. No one could help him."
This scene would be repeated many times in my younger years, first about the mortal dangers inherent in sharp table edges, and second, to let us know that our lives were always in mortal peril. Frieda's voice then grew even louder and more emphatic. Waving her hands menacingly, she warned, "So listen to me! Be careful and watch out for corners on tables. And don't fall down."
Not quite fodder for a fortune cookie, it was just another thing for two little kids to worry about in a rundown apartment facing an alley at the back of a shoe store a block from the unending roar of elevated subway trains."
From Part III (page 69)
[I learn about his terrible secret for the first and only time.]
"...That was the first time my father ever spoke about his first family. I was 20 years old and he was 60. It was also the last time we ever spoke about what happened to him and his family during the war. It was only upon writing this book that I learned anything more about the probable details of the night when they were taken, or about the camps, his wife and his little girls.
I still remember the day I learned the names of these two girls, just a few years ago. I sobbed. I didn't know what they looked like, but when I discovered their names for the first time I saw them as real people, as innocents murdered. [BTW, their names were Ada and Feigla -- little bird in Yiddish.]
We shared our DNA with them, but they were not members of my family. Still, I thought now I knew them, if only just a little bit. I took a moment to imagine, if it was possible, the terror that these little girls felt. It was then and still is horrible. The effect it had on my father is also unknowable and, I realize, fully unimaginable."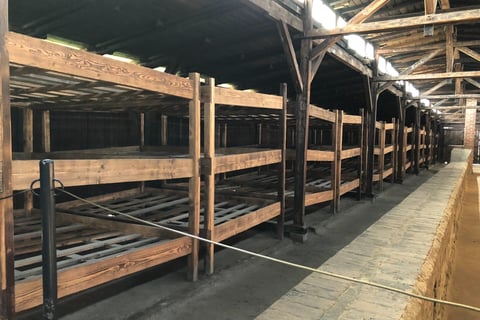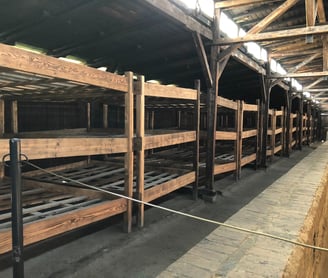 F
rom Part IV (page 146):
"On October 21 or 22, 1944, a transport arrived at Auschwitz from Plaszow where the selection of Jews was known to have been carried out by Dr. Mengele." My mother probably slept with hundreds of others on these slats of wood in Barracks 22B in Auschwitz-Birkenau.
From Part X (page 311)
[Where we discover a survivor in Sweden who suddenly remembers.]
"One second, she indicated, holding up a wrinkled, determined hand. It was what my mother did: gesture and command. Then she whispered to her son, who went upstairs and returned with an old brown leather handbag bursting with cracked black and white photographs. My heart skipped a beat, and I sensed Paula's did as well.
She showed us a picture. "Yes, I remember your mother Frieda," she said. "She was so young. We were all so young. But nothing was ever good enough for Frieda, though. She complained a lot. She always had a hard time. How is she?"
"She died last month," I told her.
Paula's heart sank as the reunion suddenly became smaller. The picture took on new meaning. "Here's your father. He was always smiling, making jokes. He was a sweet and intelligent man. I always wondered how the two of them could get along. They were so different. How is he?"
"He died five years ago."
Her eyes closed, as though in a silent prayer of mourning. "And here is your sister. Your mother always said she ate too much and she would get too fat, yet she kept feeding her." I looked at the picture. It was the same picture we had at home back in Brooklyn. "How is your sister?"
"My sister is fine. I'm sorry she's not here. She still worries about what she eats." "And here you are, just a little baby." I looked at the picture, not sure if it was really me. It didn't look like me. But this place, this person, those other pictures? They all looked like a part of me.
How am I? I'm home again. Not in this building, or in the city of Halmstad, but in a part of my past I had imagined but had never seen, a place that had now become a real part of me.
As Paula showed us those pictures, I couldn't help but recall my mother's habits regarding the photos she kept with her. I found many shots with people cut out from the photos, people she didn't like for some reason or who had offended her in some way. It seemed she had found yet another way to refashion the memories she wanted to keep. The memories and people she had decided to edit out were removed in the most practical way she knew, with a pair of sewing scissors."